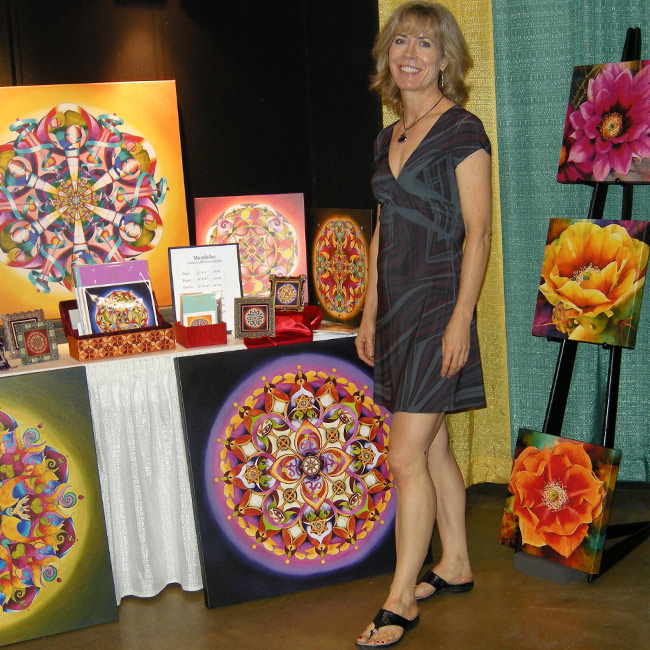 As a Phoenix native, Vikki Reed's vibrant watercolors of desert botanicals evolved from her love and appreciation of the desert's ability to produce tender beauty in the midst of harsh conditions. The mandala series which began in 2004 resurrects a childhood knowledge that mandalas are a primordial tool for centering and healing.
Vikki studied in the 1980s with watercolor greats Irving Shapiro and Paul Kuo, and began exhibiting at the outdoor shows in Arizona, Nevada and New Mexico after Paul's encouragement. This led to gallery representation with the Wickenburg Gallery and Work of Artist's Gallery. Vikki also exhibited at the Celebration of Fine Art for eight years. Before taking sabbatical to act as caregiver for her father in 2010, Vikki was featured in a one woman show at the Northern Trust Bank in January 2008 and was selected to create an ornament for the White House Christmas Tree that same year.
Vikki's current focus, the Mandala Series, combines ancient symbolism and the healing power of color.
All mandalas, botanicals, hearts and butterflies are intentionally created to provide healing opportunity and life enhancement.
• Available sizes: 3″ X 3″, 4″ X 4″, 8″ X 8″, 15″ X 15″, 30″ X 30″ (special sizes & larger sizes available upon request).*
• Available in canvas, metal, paper.*
• Prices range from $9 to $540 USD.*
• High quality, high resolution Giclée print process is used to ensure saturated color that is true to Vikki's original paintings.
* Availability & pricing vary depending upon specific mandalas.

M
andala is a Sanskrit word meaning circle. The mandala represents the universe in totality as well as a return to wholeness on a personal level. Serving as tools for meditation and healing, the mandalas are timeless and cross cultural. The mandalas offered here are reproductions of hand painted originals, not computer generated, and feature asymmetry engaging the brain in a different way, promoting the illusion of symmetry.
Each mandala has a story and provides opportunity for healing and growth. Some describe these pieces as sacred geometry. Their uses are many. Place and use them to support your intentions: practical, emotional, spiritual, aesthetic.
In your home:
Use my mandalas to help facilitate alignment and joyful expansion!


In your office:
As a placemat (after laminating):
Financial woes?
Relationship issues?
Do you want a taste of Arizona?
The frantic pace of life today leaves little time for contemplation, and yet, the greatest clarity and deepest truth can be found by taking time to look within, "Be Still and Know", if you will…
Painting has always been my way to find that clarity, and mandalas were the method to create order out of chaos, even as a child.
The powers of color and line are evident for me in what is created when I show up in the studio with a willing heart and ready hands. I am consistently amazed and gratified by the generosity of creative energy flow. It is my privilege to share what I believe to be life-enhancing, spirit expanding imagery. I feel a responsibility to travel regularly to the mythic, and bring back pieces of the puzzle, in the form of art. These pieces help the collective return to wholeness, (which is what the mandala symbolizes).
There is, I believe, healing ability in color tone, just as there is in musical tone. I seek to combine the elements of color in my work, whether mandala or botanical, in such a way as to maximize the benefits of this effect. My palette has evolved over time to include very vibrant hues. Mandalas can and will hold loving space for any viewer seeking healing opportunity. I paint with the intention that the wholeness each one of us seeks is available and waiting, quietly reassuring, "Be Still and Know…"